Hi, my name is Ronald Fuschtei and I am a member of Port Adelaide's Aboriginal Academy team.
As a reward for completing both the educational and football components of the Academy program across the year I along with 17 of my teammates were given the opportunity to travel to New Zealand on a football and cultural exchange tour.
Over the following week I want to share my experience with you through the following diary account.
Before I start I want to share some background on me as this tour to New Zealand could be one of the most significant things I've done in my life.
I'm 17 years old and have an Aboriginal mother Deborah and a Maori father Grant.
My parents separated when I was younger which was very difficult but I'm in the unique and fortunate position to have two beautiful cultures within my DNA – Aboriginal and Maori.
This tour to New Zealand will be the first time I will see the other side of my culture and ahead of me will be some life changing moments but more about that later.
We were all incredibly excited as for most of us it was the first time we had been overseas.On Monday morning I along with my teammates met at Adelaide airport to fly to New Zealand via Sydney.
Both flights were very smooth and as we were descending into Auckland we were all trying to peer out the window to take in our first sights of New Zealand.
For most of the boys they were excited just to be arriving in a new country for me this arrival was going to be extra special.What I observed was beautiful green landscape, rolling mountains and a city surrounded by water.
Waiting at the airport were six family members from my father's side of the family that I was about to meet for the first time.
I was so anxious and nervous. I didn't know what to expect as I had never been through this before.They were my grandmother Rachel, auntie Caroline, cousin Katena and cousin Rose with her two young daughters Isabella and Lilly.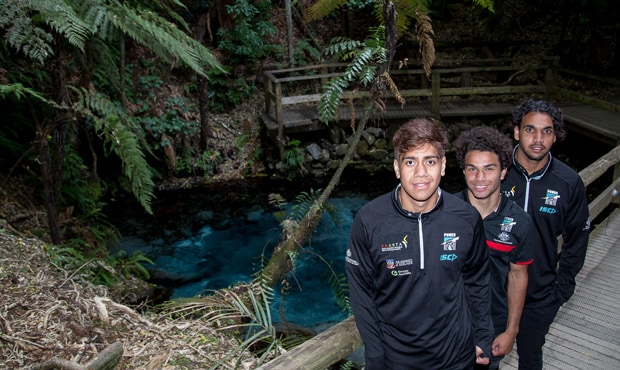 When I walked through customs and met them it was just so special. After all, for my previous 17 years I had only ever seen only one half of myself. This meeting was my first step in becoming complete.
My new family were amazing and while my teammates settled into their accommodation in Auckland I visited my grandmother and grandfather with my cousins.
It was so surreal. As I was planning to see my grandfather I bought an old photo from home when I was 18 months old sitting on his lap.
I gave him the photo. It was the first time he'd seen the photo and it was incredibly emotional for all of us in the room.
We continued sharing stories and getting to know each other for the next couple of hours after which I visited my cousin Rose's house and met her husband. Piece by piece my life story was being put back together.
I arrived back at the team hotel tired, emotional and with my mind filled with so many thoughts. But most importantly I was happy for this first day of our trip and provided so much more than I could have ever expected.
We woke up on day 2 to a beautiful sunny Auckland morning. Naturally, my mind was still buzzing from the night before but kittle did I know that this day was going to be equally special.
After breakfast the team jumped on a bus for a five hour trip south to Rotorua.
All trip all I could think about was my family here in New Zealand. I just felt so at home here in New Zealand. It feels like my spiritual home.
Daydreaming about my family and what had happened the night before made the bus trip go much faster than expected.
Rotorua is a beautiful town set on a lake and is famous for its hot volcanic springs.
Soon after we arrived we had lunch and then our academy coach Marlon Motlop took us through an intense 90 minute training session at a local park.
After training we caught a bus to the Mitai Maori Village where we were treated to an amazing cultural performance from a local Maori tribe.
During the night we were taken on a bush walk through their forest to see natural springs and their village homes.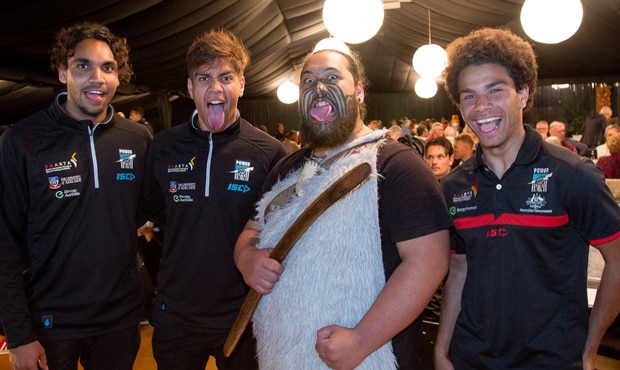 But the most amazing part of the night was their traditional ceremonies which included singing, dancing and their famous Haka war cry.
We were then afforded the ultimate privilege of performing our own Aboriginal war cry to their chief and in front of the vast international audience.
Seeing the Haka was very special to me as I remember my father doing it to me when I was six years old. This brought back so many memories and now I'm just craving to learn more about.
Little did I know that my night and life was about to take another incredible twist.
I was introduced by our Aboriginal programs director Paul Vandenbergh to the Maori chief after dinner and one of the female Maori staff overheard our conversation where I mentioned that my New Zealand family name was Hawke.
After meeting the chief I then boarded the bus with the rest of my teammates to head back to our accommodation when Marlon Motlop called me off the bus as he wanted to introduce me someone.
Standing outside the bus was the young Maori lady who was indie working and who had heard my earlier conversation. I was introduced to this girl and her name was Georgia.
What she said next was amazing. She explained that her family name as a Hawke and as we worked through our family history we established we were in fact cousins. Again it was very emotional and overwhelming. For the second time in as many days I had been introduced to another part of my life that I never knew existed. Georgia and I exchanged details and I will see her before I leave. This Aboriginal Academy tour has been truly life changing and we are only two days in!