Long thought of as a bit of kick and giggle that our comrades across the Tasman are oddly obsessed with, Australian Rules or AFL had a larger significance for a select few New Zealanders earlier this month in Melbourne.
A national team many won't be aware of, the New Zealand AFL senior side made up of a motley crew of dedicated footballers headed across the other side of the Tasman deep in Victoria to compete against 20 other countries vying to be declared the world's best AFL nation.
It might be necessary to point out that Australia doesn't compete in the International Cup, a footnote which Hawks captain Andrew Howison says is quite crucial.
"It would be a bit unfair I think with them being the owners of the game," Howison is bluntly right, they do own the game and it would be exceptionally unfair.
For the Melbourne based NZ captain, he understands how important the sport is to the locals, explaining "it's pretty much a religion sort of like rugby is to New Zealand."
But just because they own the sport and may be spiritually attached to the game in one way or another doesn't mean other countries shouldn't have a crack at it.
Howison doesn't think so at least, he dreams his side of battling Kiwis can put their own stamp on the game just has been done with many sports before.
Along with Ireland through their roots of Gaelic football and Papua New Guinea with their close proximity to Queensland, the New Zealand side entered the tournament firmly in the mix of favourites to win the 2017 International Cup however they just fell short after losing a tight final to Papua New Guinea by a single point.
Despite the fact many Kiwis aren't even aware Australian Rules is played here, the New Zealand team is well represented throughout the country.
According to the CEO of AFL New Zealand Rob Vanstam, it's played up and down New Zealand and the organisation has the figures to back it up.
There are sixteen clubs in four different leagues in Otago, Canterbury, Wellington and Auckland and that's not including the annually run AFLNZ Premiership which compiles the top 120 players from around the country.
But for Vanstam, he's not hiding from the fact there's a long road ahead to grow an Australian game to its potential in a country where there's already a list of solidified sports so high on New Zealanders' agendas.
"We have to make it relevant," he said, "there's no point bringing in an Australian story and trying to shove that into the NZ community. We have to really be relevant directly."
"Over the last two years we have had a great broadcast deal with TVNZ and Duke so we have the opportunity to promote (the sport) not only on Sky but also on Freeview."
"Then there's this young base of kids that we are seeing at primary schools which say over the past five years there would have been a 100,000 kids that would have gone through a minimum of a six week programme and they are being able to not only do at school but then also go home and watch it on television," Vanstam said.
By having the sport seen and familiarised in homes around the country, AFL New Zealand hopes this will only encourage more of the younger generation to pick up a Sherrin.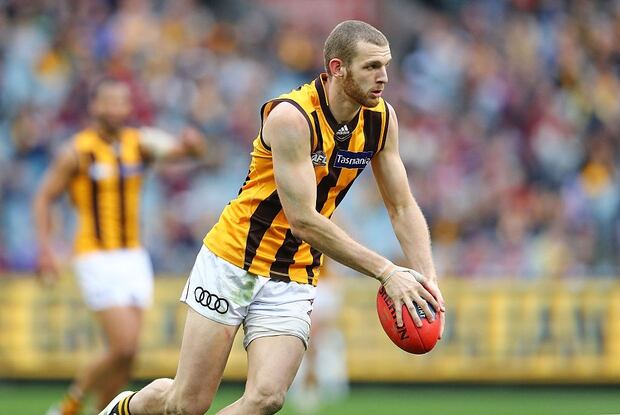 With grassroots plans in place, competitions for all ages running and the skillset of those playing rapidly improving should rugby, league, basketball, cricket and other sports expect to start losing talent to AFL.
Maybe not yet but Vanstam certainly believes the high performance opportunities for New Zealanders in the professional capacity are there and will only continue to grow.
"If you look at the entry of the Warriors into the competition in 1995 at the time there were three New Zealanders playing in the NRL at the time and now there are 140 odd, so the talent in New Zealand is there," he said.
In Australia the AFL competition is made up of 18 clubs with lists of 40 plus and the sports average salary has well and truly tipped $300, 000.
Vanstam points out, "the DNA between a New Zealander and Aussie is not that different," before going on to add, "only so many people can play for the All Blacks."
If it's such a sweet gig then, and it suits New Zealanders natural abilities, why aren't there Kiwis already flying high in the professional ranks?
Well there are, kind of. Currently there are 24 athletes playing in the AFL that if the same eligibility rules as soccer, rugby and league were followed, they could have worn the black jumper in the International Cup.
Someone who firmly falls into that category is Hawthorn Hawks resident Kiwi and surely the AFL's most authentic playing New Zealander, Kurt Heatherley.
Heatherley is the perfect example of a kid who had the skill set to succeed in a sport he had never heard of.
As a sixteen-year-old at St Paul's Collegiate in Hamilton he fielded a call from a Hawthorn recruiter whilst shooting hoops at lunch, instead of knowing this was to be a sport he would later excel at, Kurt thought it was one of his schoolmates playing a prank on him.
Fast forward to 2017 and Heatherley has played five senior games for the Hawthorn Hawks and made history as the first native New Zealander to earn an AFL cap, he admits it's been a blur.
"It's been a pretty fast and quick journey, I've only been here for 5 years but loving every moment of it."
"They picked me up when I was playing for NZ under 16's, playing over in Tasmania, he (Graham Wright, Hawthorn recruiter) spotted me there but because I was with New Zealand basketball he couldn't come up and talk to me."
"I think probably the one thing they saw in me was I was just willing to compete, that never say die attitude and I've stuck with that the whole time I've been over here, just trying to compete with these bloody Aussies," Heatherley laughed.
From Hamilton, playing representative basketball for New Zealand, to Melbourne playing for a famed AFL club, 22-year-old Heatherley knows he's a great example of what giving the Australian religion a chance can achieve.
And just like Andrew Howison and Rob Vanstam he knows for sure, this Australian game of kick and giggle can be much, much more for some of New Zealand's promising up and coming athletes.
Story – Louis Herman-Watt NZ Herald